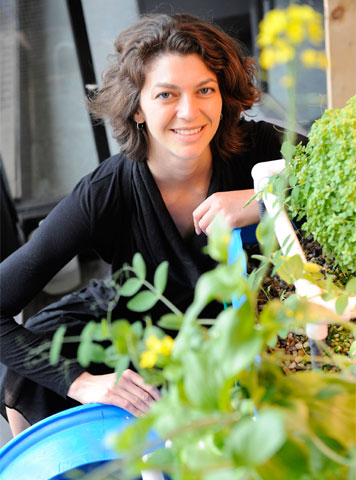 By Stephanie Eich
Now, she is enabling people to grow their own food, not only fostering a sense of community, but also allowing them to become more self-reliant, healthy, and whole.
"There's an idea in Judaism called Tikkun Olam, which means 'repairing the world,'" she says. "That was part of what I always did and thought that I should do."
This strong code of personal ethics, coupled with an adolescence in a declining steel town where she witnessed friends' parents losing their jobs as business moved overseas, has influenced Goodman's life in significant ways. She has already formed two non-profits and recently won an MIT award for an innovative solution to agricultural issues in struggling communities.
For their work developing Maa-Bara, a novel "water farm" that could benefit regions with infertile soil, increase food security, and provide jobs, Goodman — along with her teammates Ogheneruno Okiomah, Sandy Huang, and Dr. Calestous Juma — won the 2011 Muhammad Yunus Innovation Challenge, part of the MIT Global Challenge. It's an annual competition that awards student teams for innovative solutions to world problems. Translated from the Nigerian language Ogoni, Maa-Bara means "water farm", an apt name for the team's aquaponics system. The system, originally designed for use in the Niger Delta, combines hydroponics (growing vegetables in water) and aquaculture (growing fish for food), resulting in a self-contained, sustainable system that can provide food to areas with infertile or polluted soil. Okiomah, whose MIT masters thesis was the inspiration for the team's project, is leading efforts in Nigeria to implement the Maa-Bara system.
The growing fish can be fed kitchen scraps. Fish waste is filtered, leaving behind nutrients to fertilize the plants. Clean water flows back to the fish tank to start the cycle again. The system utilizes approximately one-tenth the amount of water required for traditional agriculture, and also protects natural bodies of water from pollution often associated with fish farming.
Grow anywhere
"The goal of our sustainable agricultural model is to allow people to grow their own healthy fresh fish and vegetables in almost any location," explains Goodman. "You can use it
in hot areas, cold areas, areas where it doesn't rain much, and it produces a lot of food."
Last fall, Goodman implemented a pilot of the system in Lynn, MA. The 50-gallon system built with members of the Lynn community is already producing vegetables, and plans are under way to construct a 750-gallon system. She says of the project: "It's amazing how much people want to help. We have engineers and lawyers and others who offer good advice, who want to see this succeed."
The team is now exploring other places to test the system, most likely in Nigeria and Kenya. "We're trying to figure out how to optimize the system to get the energy requirements lower, because we're hoping to deploy it in the least developed countries." Goodman envisions other implementations for the system, too, such as an aquaponics community center, similar to traditional community garden plots.
After completing her undergraduate studies, she spent time in Arizona and Hawaii learning about organic farming and community organizing. During that time, she formed two non-profits that advocate for Hawaii's farmers and promote food sovereignty, and served as president of the Hawaii Organic Farmers Association. "I did a lot of community organizing, a lot of lobbying, and really learned how to build communities, manage projects, and implement programs."
Goodman received a master's in city planning last June. Selecting a graduate school was an easy choice. MIT immediately stood out as the place for her. "The brochure from MIT said, 'How will you make the world a better place?'"
Looks like she is figuring it out.