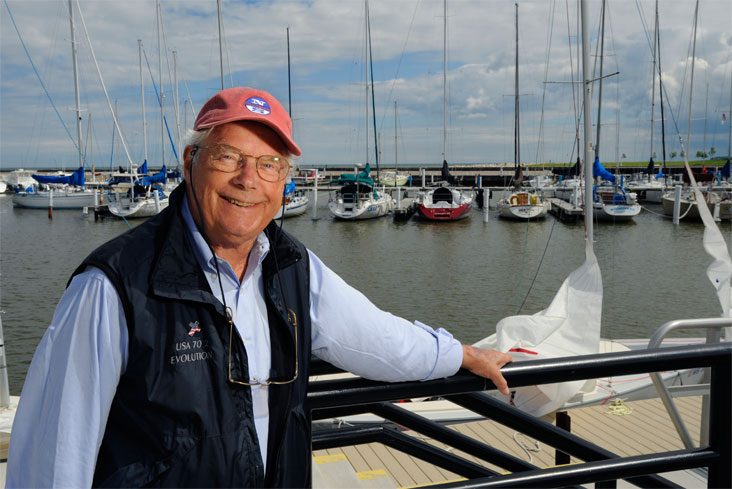 By Liz Karagianis
"What's the direction of the wind? Well, in that case, let's go over to St. Croix instead of St. Martin."
Kohler, of Sheboygan, Wisconsin, learned to sail on Lake Michigan at age five. Soon he soloed a boat, began racing, and as a teen sailed the Bahamas and Virgin Islands. Now, the 77-year-old businessman has spent his life moving with the wind and has sailed more than 100,000 miles around the world.
"Sailing is incredibly aesthetic, athletic, and intellectual all at the same time," he says. "It's been an extensive part of my life. When you sail 70 days in a row in the summers, it just becomes second nature."
Celebrates 75th
It will be smooth sailing this spring when the Institute celebrates the 75th anniversary of MIT Sailing. The Sailing Pavilion, built in 1936, was the first facility ever built for college sailing in the United States. Walter Wood '17 and a few professors felt that since MIT was on the Charles River, why not bring a sport of the rich to non-millionaires.
Recently, Terry Kohler made a major gift to MIT to celebrate that anniversary and to honor American sailor Lowell North, an engineer, sailmaker, and Olympic gold medalist.
"The people at MIT had a need," Kohler says of the 2,000 students, faculty, alumni, and staff who are taught to sail at the Institute each year. "People love to sail, and I feel you should make it easy for them. Otherwise, they'll just lay on a couch and watch TV."
Kohler's gift will provide MIT with floating docks that will increase the space and capacity to store more boats at the same time. "It's going to be a radical change in the whole environment down there," he says, adding that he hopes that the gift not only will help MIT but also will honor Lowell North. North — who along with Peter Barrett won a gold medal in the 1968 Summer Olympics in Mexico City — in 1957 founded North Sails, a company that produced sailing equipment.
In 1984, when the company was for sale, Barrett called Kohler to say: "You should buy it. You know a lot about sailing. You've sailed every sailboat from a dinghy to an 87-footer. You have a sterling reputation as a Wisconsin businessman. And you have the money."
It sounded good.
"Now, I've been having great fun for the last 27 years," says Kohler, who at the helm, grew that company to 20 times its former size. North Sails — which designs and manufactures high-tech sails, sail cloth, and masts for sailing vessels — has long been the world's leading sailmaker.
North Sails
After high school, Kohler spent five years in the Air Force. Married and a father, he
entered MIT as a freshman at age 25. He earned a bachelor's in 1962 and a master's in 1963, both from the Sloan School of Management.
Kohler then joined the Vollrath Company, a family firm that made pots and pans for
commercial cooking. He is now president and CEO of Windway Capital, the parent company of both Vollrath and North Technology Group, a family of nine companies that advances
innovation and superior technologies through many companies, including water sports. One
of those companies is North Sails.
"The people at North Technology are just as souped up about this whole business as I am," Kohler says. "In a room full of North folks, the dynamics, just the raw power of intelligence and commitment, is incredible. I mean, you walk in there and the next thing you know, you feel like you're floating two feet off the floor."
Kohler says sailing has defined his life. It's a mental and physical challenge. It's adventure. And there's no greater sense of teamwork than literally being in the same boat with someone. He says he loves it all — the wind, waves, gleaming sun, brilliant sky.
"Sailing is my passion," he says. "It's almost everything."