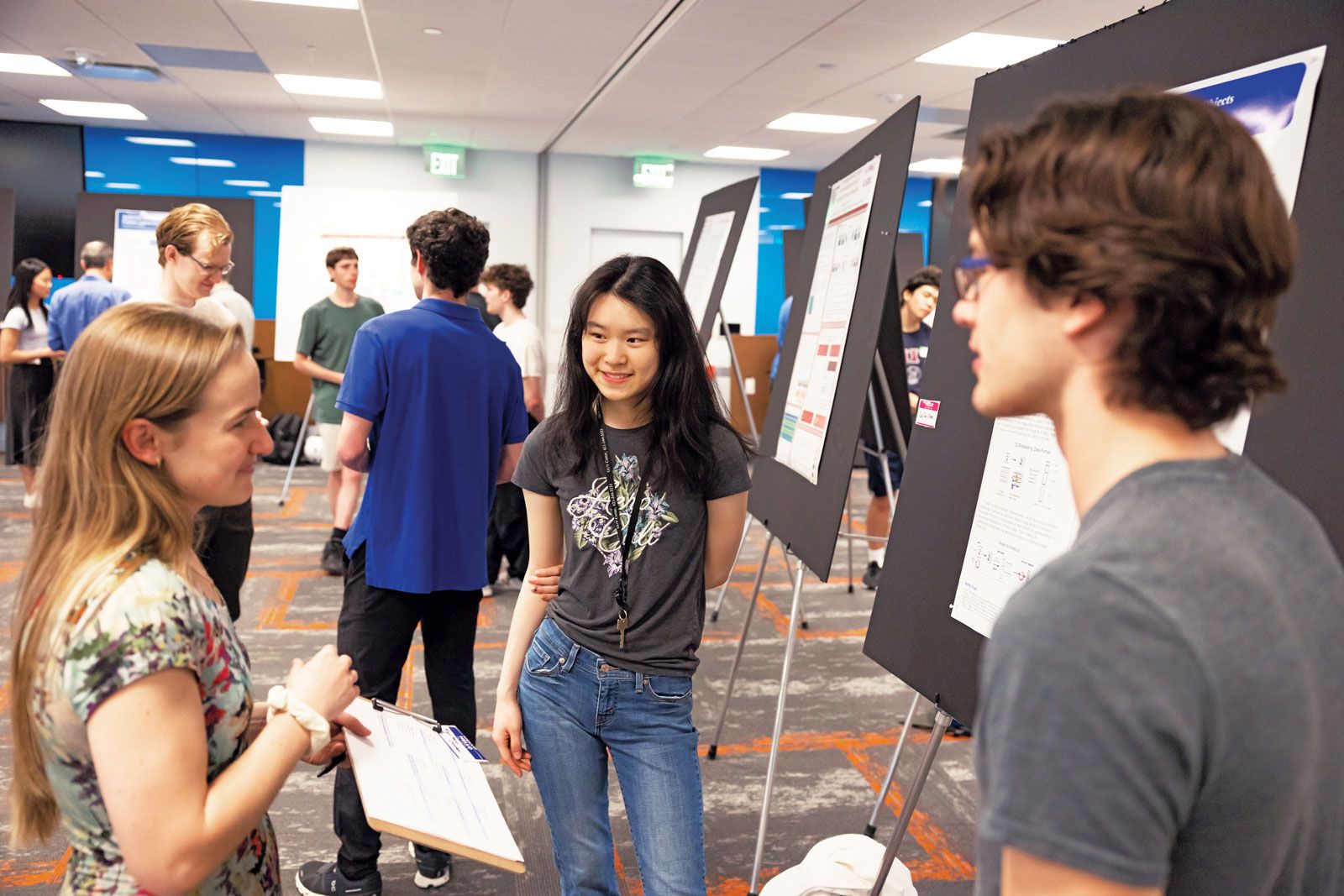 By Kara Baskin
For a decade, the MIT School of Engineering Communication Lab, which originated in the Department of Biological Engineering and has grown to encompass the school, has empowered students to refine, communicate, and demystify their discoveries for the public. "You could be doing the most interesting science in the world, but if you're unable to explain it in a compelling way, nobody is going to know," says Diana Chien PhD '16, the lab's longtime manager.
In 2013, the Comm Lab's founders, who include Eric Alm, professor of civil and environmental engineering and biological engineering, and Agnieszka Stachowiak '01, PhD '07, a biological engineering technical instructor, developed a one-to-one coaching program where specially trained Communication Fellows provided support for their peers. Graduate student and postdoc coaches, chosen for their scientific and technological acumen and people skills—a treasured combination—continue to form the foundation of today's lab.
"One of our fellows coined a really amazing term: 'optimal intellectual distance,'" says Chien, who became a Communication Fellow while a microbiology graduate student at MIT. "They are well versed in a field but far enough away from the immediacy of the research that they're able to ask just the right level of critical questions."
At the lab, which is housed in the School of Engineering Programs in Technical Leadership and Communication (TLC), students make appointments with a peer coach for help with presentations, graduate school applications, resumes, dissertations, and more. Fellows offer advice and provide camaraderie.
"Over the last 10 years, the Comm Lab, with its model of discipline-specific, time-of-need, peer-to-peer coaching, has had significant impact. It has catalyzed the success of so many MIT students and postdocs by honing their communication skills, allowing them to crisply and clearly articulate technical information to a wide variety of audiences," says Reza Rahaman SM '85, PhD '89, the Bernard Gordon Managing Director of TLC.
"There's an element of interpersonal connection," says Chien. "Peer coaches can say, 'Here are things I did to manage stress. Here's how I pulled friends and mentors into my application process.' It becomes a very holistic experience." This perspective is crucial for engineers, who are often so close to their work that it's easy to lose perspective and confidence, adds Chien.
For the lab's 10th anniversary, Chien is coordinating a panel of alumni fellows. One is a climate journalist, another is a White House biotech adviser, and another is training to become an astronaut. "They all say: 'Communication is core to what I do.' Those skills are transferable and applicable to many industries," she says.
Katharine Greco SM '18, PhD '21 is a former fellow and chemical engineer who is now director of technology at the early-stage company Still Bright, which is developing an electrochemical, environmentally friendly way to extract copper metal from ore.
"My experience as a Comm Lab Fellow was extremely fulfilling," she says. "The research and science being pushed forward at MIT is incredible, and helping fellow students communicate the impacts of their work was super rewarding. I also found that the Comm Lab training, as well as practice through coaching, really helped me become a more effective communicator, and I've been able to continue putting these skills into practice in my current role."
While the fellows have pursued exciting careers, Chien is equally proud of their contribution to MIT. "We're seeing an increase in repeat clients, which means that the lab is really becoming part of the MIT culture, which we love. We're trying to normalize the act of asking for help and having conversations," she says.