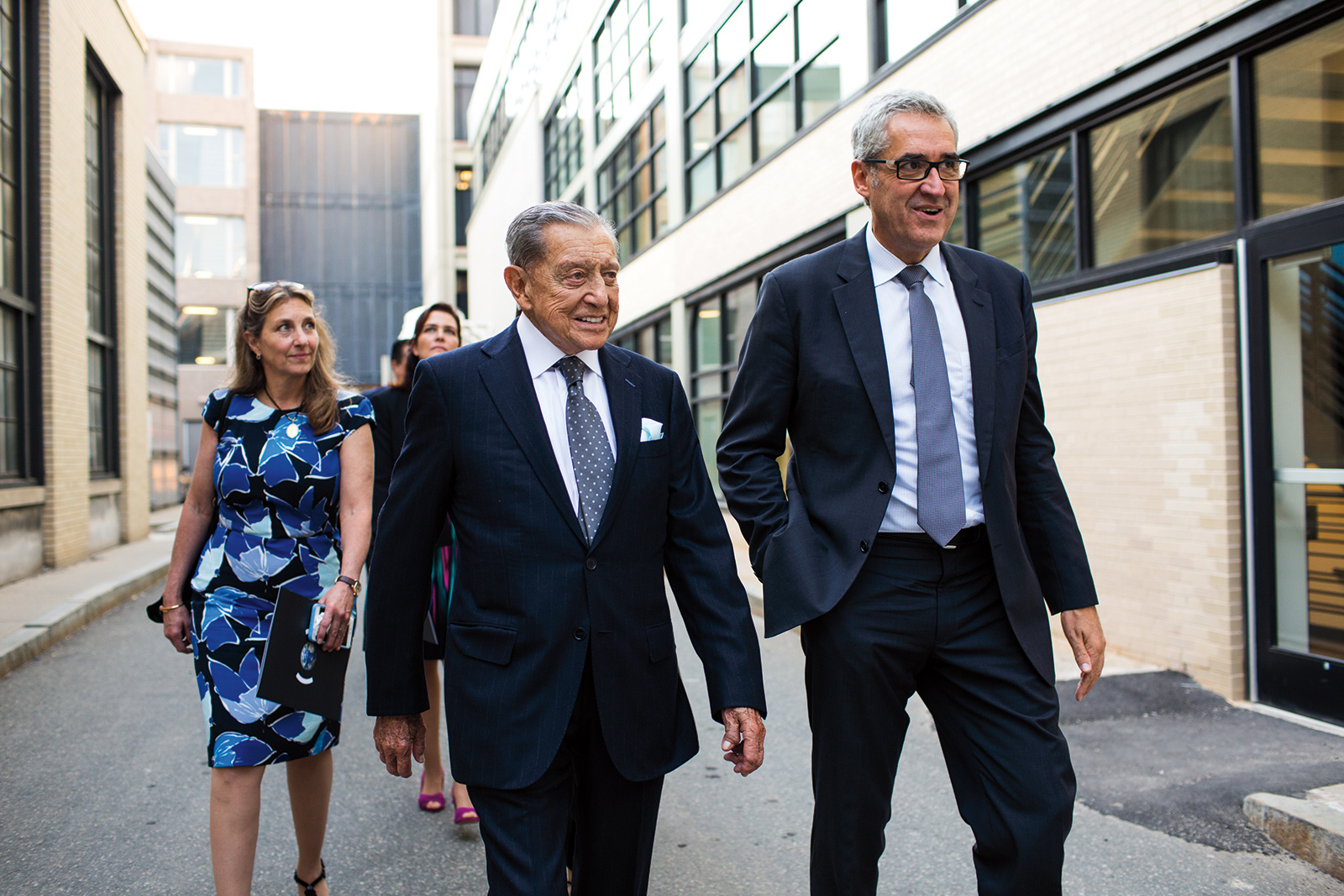 By Kris Willcox
He is the founder of the Mexican airline Interjet and has had a long and varied career in Mexican industry and government, including six years as the governor of the state of Veracruz. His father, Miguel Alemán Valdés, served as President of Mexico from 1946 to 1952.
Since 2014, Miguel Alemán Velasco has been honored to serve on the Visiting Committee for the MIT Department of Aeronautics and Astronautics, which offers advice and insight on that academic program to the MIT Corporation. Along with his wife, Christiane, and their four children, he has made several significant philanthropic investments in MIT. Most recently, the family created the Miguel Alemán Velasco Professorship in Aeronautics and Astronautics. The chair was endowed by a gift from Alemán's children in celebration of his 85th birthday—a gesture he describes as "a very emotional moment." Paulo Lozano SM '98, PhD '03, a leading figure in aerospace research and native of Mexico City, is the inaugural holder of the Alemán Velasco Professorship. Lozano directs the MIT Space Propulsion Lab and is the newly appointed faculty director of the MIT- Mexico program within the MIT International Science and Technology Initiatives.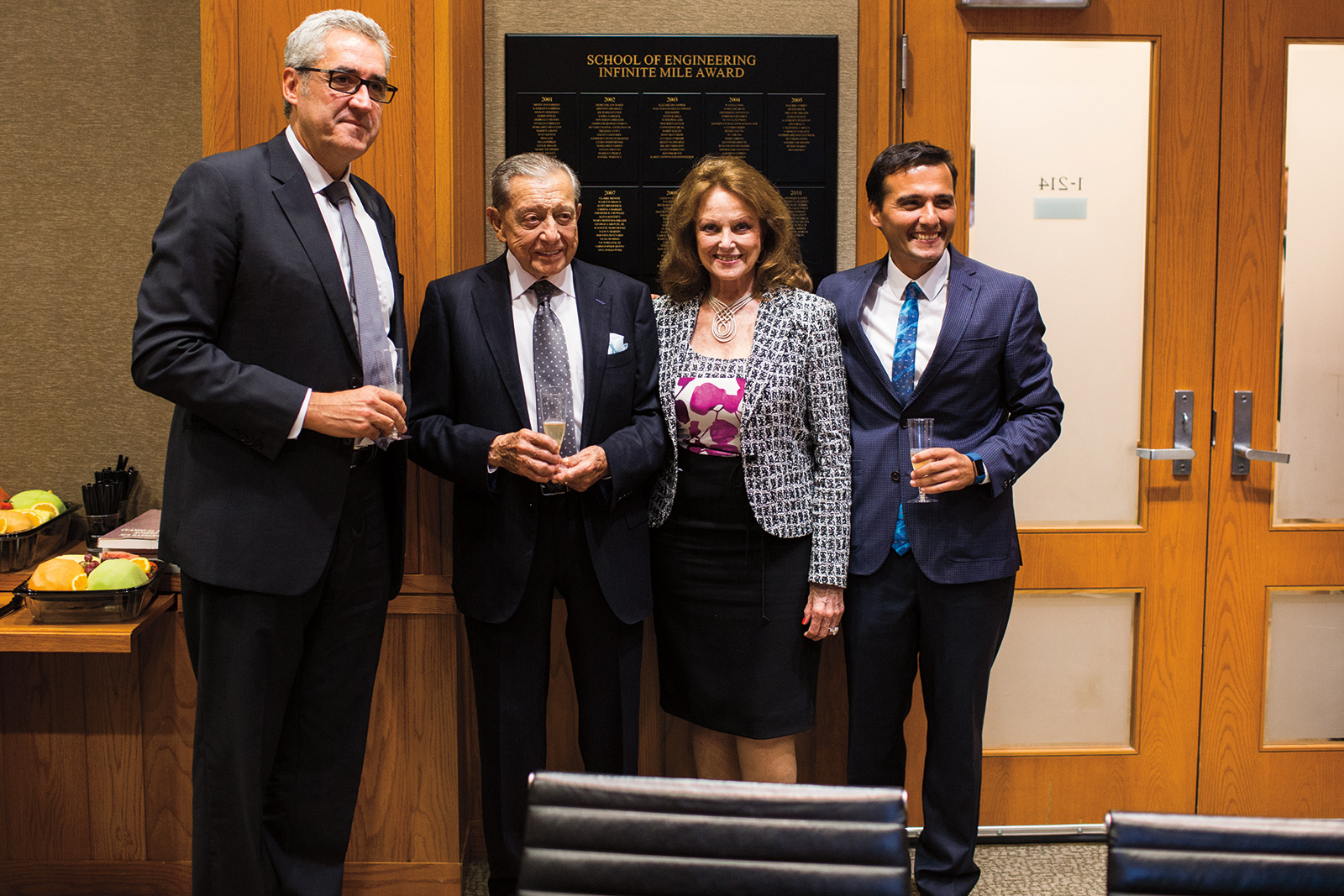 Supporting MIT research is an opportunity to "see beyond our time and invest in the best minds to develop scientific and technological advances," says Miguel Alemán Velasco. Philanthropy also reflects deeply held family values: "We have been taught by our parents to be generous and to invest in what really changes the destiny of a country and society. The best way to do this is to invest in knowledge, education, and scientific research," he says. He is particularly gratified to see the growth of the MIT community in Mexico and Latin America and believes that an MIT education will help to develop a new generation of inspired leaders in Mexico and around the world.
A gift to MIT was a natural way to commemorate her father's birthday, says Claudia Alemán Magnani: "Creating the Miguel Alemán Velasco Professorship was one of the best gifts we could give to our father, because we have seen his determination every day to work in favor of what he believes." She adds, "He is our best example." She joined her parents on a recent visit to MIT to see the newly renovated Building 31, home of the aero/astro department—including a lobby newly named for the Alemán family in honor of its support—and was inspired "to see MIT students from every part of the world living [and learning] together."
Like her father, Claudia Alemán Magnani is a dedicated philanthropist, and plays an active role in the Fundación Miguel Alemán, established in honor of her grandfather, the former Mexican president. The foundation's priorities include research in health and the environment, gender equality, and the development of agricultural innovation, tourism, and the humanities in Mexican society. The foundation's accomplishments, she says, are "the deepest pride in our family."
As he looks to the future of MIT, and his own growing family, Miguel Alemán Velasco is full of optimism: "We feel very proud of all of them—my daughters, my son, my grandchildren, and now my great-grandchildren who are joining this heritage of generosity and love for our country."