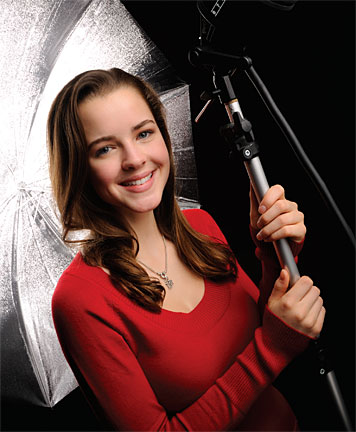 By Liz Karagianis
Her job was simply to gush with emotion — first cry, then laugh.
"I just knew how to do it right off the bat," she says, adding that she had so much fun, she begged her Mom to hire her an agent.
Soon after, McClellan landed a string of TV acting jobs and now has starred in nearly 30 television commercials. This Vancouver native has sold dozens of products including Easy-Bake Ovens for Hasbro, Barbie dolls for Mattel, jeans for Kohl's department store, SUV's for Mercedes Benz, and hams for Farmland Foods. The ads have aired in North America, the Middle East, Europe, and the Caribbean.
In third grade, McClellan, who one day plans to star in a movie, began socking away some of her acting checks in a retirement savings plan. "I started accumulating quite a bit of money," she says.
Thousands.
By age 12, she was talking with her parents — a business owner and a real estate investor — about money management, and she began reading stacks of investment books. "It became so clear what I was going to do with this money."
At 13, she bought a condo in central Vancouver. "It's in a gorgeous building in a really good location," says McClellan, adding that over the years, the value has doubled, and she's had four different tenants.
With money left over, she and her four siblings later invested in another Vancouver condo. The 18-year-old freshman now rents both properties, while she lives in Simmons Hall, an undergraduate dorm at MIT.
TUTOR ON THE SET
McClellan says it takes about three 12-hour days to shoot a television ad. Often she had a tutor on the set.
"In the acting world, a lot of people I know dropped out of school. I'm just the other extreme. Education is my number one passion," says this young woman, who plans to major in civil and environmental engineering at MIT and hopes to one day become a structural engineer. She dreams about building Olympic stadiums and high-rise towers in Beijing, Tokyo, and Dubai.
"I've always wanted to act in a movie. Right now, my life at MIT is so busy, it doesn't seem like it's going to happen anytime soon, but I'm taking an acting class at MIT just to stay in practice."
She adds that she recently entered a fertile period for acting. "Under age 16, you do the toy ads. But once you're over age 18, you can begin to play the university girls or do the ads for shampoos and cosmetics.
"Actually, I've never wanted to be an actress as my primary career. I always wanted it to be a side job," she says, adding that she hopes that her career as a structural engineer will help her to bridge the gap between art and science. "I'd like to prove that you can not only be brainy but you can also have an artistic career."