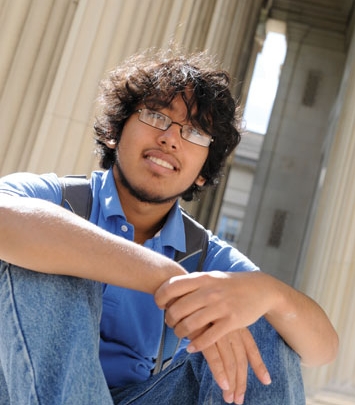 By Liz Karagianis
The competition, held in the ballroom of the Grand Hyatt Washington hotel in Washington, D.C., is the largest and oldest spelling bee in the world. Kashyap's winning word was appoggiatura, which is a musical grace note.
"I started off spelling calmly, but then the letters became more staccato, and I started rushing. The emotion was pouring through me," he says. "Once I finished, I just burst into tears. The pressure was absolutely immense."
Three years before the competition, Kashyap bought a copy of Webster's Third New International Dictionary, which has more than 476,000 entries, and he began to study.
"I read the whole dictionary," he says. "I memorized the patterns of language, the language of origins, and the definitions. I tried to develop an intuition for spelling, so if I didn't know a word, I'd be able to deduce the spelling," says Kashyap, who studied three hours a day during the week and seven hours a day on weekends.
Kashyap, who won three spelling competitions in his class, school, and city (San Diego) before going to Washington, had lost a local spelling bee when he was in the fourth grade. "It was then that I realized you have to work very hard to achieve a goal. When I lost, I thought, 'My dream is to win the national spelling bee,'" he says.
The Scripps National Spelling Bee, which went 19 rounds the year he won, aired live on ESPN. Kashyap won $30,000 cash, a $2,500 savings bond, a reference library from Merriam-Webster, an engraved trophy, and lots of publicity.
"I cried through my post-championship interview. I just could not hold it together," he says, adding that right after he won, he was swept away to a press conference. Then he and his parents boarded an airplane for New York City, where the next day Kashyap was a guest on the Today Show, Good Morning America, and the CBS Early Show. Diane Sawyer, Katie Couric, Matt Lauer, and Al Roker peppered him with questions. "I was overwhelmed," he says, "but it was definitely cool."
JEOPARDY ANYONE?
In the championship spirit, last year Kashyap's mother suggested that her son compete on the TV quiz show Jeopardy. When she made the suggestion, Kashyap rolled his eyes.
"Give it a try," she told him. "You'll be doing yourself a favor."
"She happened to be right," Kashyap says now, who recently won the Jeopardy Teen Tournament and a $75,000 prize.
First, Kashyap was selected from a field of 1,200 teens registered on the Jeopardy website. Then, he took a 50-question timed online test, and was invited for an interview and a mock game. Next, he was flown to Los Angeles to tape the show and stayed with his parents at the Beverly Hilton in Beverly Hills.
On the night he won, the final Jeopardy category was Greek mythology, a category he was familiar with, he says, because he had been captain of his high school's quiz bowl team.
All his winnings, he adds, will go toward his MIT tuition.
Now, the 17-year-old freshman who was born in Muzaffarpur, India, and raised in Poway, California, plans to study biological engineering. The only child of a stay-at-home mom and an organic chemist, he says he wants to "follow in my father's footsteps" and work in the field of science.
For two years, he did research at the Salk Institute in La Jolla, California, and he hopes one day to fabricate biomedical devices or therapeutics that can be quickly translated to the clinic.
"My number one interest is cancer research," he says. "If I could play a role in ameliorating the conditions of cancer patients, that would be fantastic."