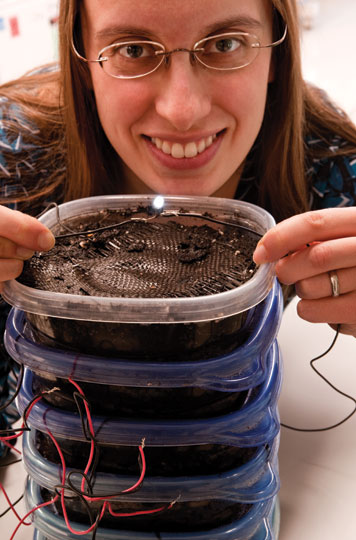 By Liz Karagianis
The fuel cell costs less than $20, and is designed for use in sub-Saharan Africa, where more than 500 million people live without power. Popular Mechanics magazine recently named the invention "one of the 10 most brilliant innovations of 2009."
"We're just a few kids doing cool stuff and trying to help people, but we wondered: is this really important, creative, or novel? This recognition was great validation that we're doing something good."
Presser, a grad student studying math and biology, is among the six-member team, Lebônê Solutions, which took two years to develop the invention. This year, it was among the winners of MIT's IDEAS Competition, an entrepreneurship contest that encourages young people to change the world.
The idea began in an engineering class, where the team first thought they would develop an artistic light display for the 2012 Olympics. "But we didn't have real passion for it," says Presser Aiden. "Since some of us had lived in Africa in areas with no power, we decided to try to find a solution."
Scientists have known for years that a trickle of electricity could be harvested from the metabolic reactions of bacteria living in soil, but the team chose to develop it. Their group included students from five different disciplines. "Definitely the cross-disciplinary nature of the team enabled us to get where we are. I know how to solder two wires together, but I didn't know how to market the product," says Presser Aiden, who predicts that by this summer 1,000 households will be using the battery.
People in sub-Saharan Africa use candles to light their homes, she says. "Since they use fire, they constantly breathe in smoke and other toxins. Respiratory infections are the leading cause of death of children under five.
"It's incredible that children will now have clean light to study by, and one day they can become doctors, lawyers, nurses, firefighters, or whatever they want to be. It makes me happy to know that there is a kid now in Africa doing his homework over an LED light, instead of a candle — and because I helped him, maybe he is not going to die. It's an amazing feeling."