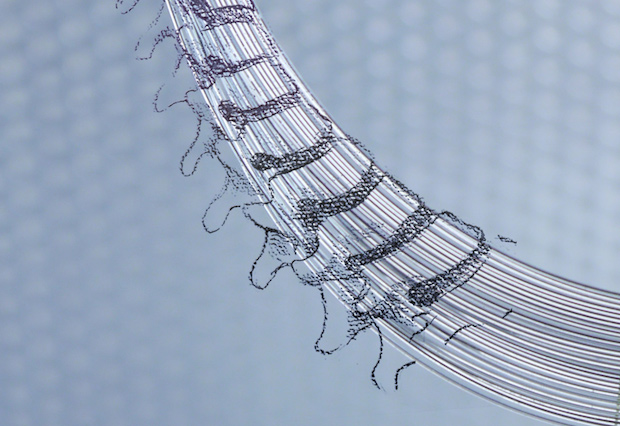 Ears
A therapy for sensorineural hearing loss could be on the horizon from Frequency Therapeutics, founded on regenerative biology research by MIT Institute Professor Robert Langer ScD '74 and former Langer Lab postdoc Jeffrey Karp, whose affiliations include Harvard, Brigham and Women's Hospital, and the Broad Institute, and who teaches in the Harvard-MIT Health Sciences and Technology Program. Under CEO David Lucchino MBA '06 and chief scientific officer Chris Loose PhD '07, Frequency has successfully completed a first-in-human safety study of a small-molecule drug intended to activate the regrowth of sensory cells in the inner ear.
Eyes
Typical treatments for eye diseases such as glaucoma rely on topical drops that, even with proper use, cannot penetrate deeply. LayerBio, a startup focused on ophthalmology and wound care, offers an alternative based on nanotechnology invented by Paula Hammond '84, PhD '93, David H. Koch Professor in Engineering and head of the Department of Chemical Engineering. With support from MIT's Deshpande Center for Technological Innovation, Hammond and team developed a coating, composed of ultrathin layers of molecules of alternating charge, for sustained release of drugs to a targeted area.
Heart
Failing hearts could someday get an assist from a soft robot designed by mechanical engineering faculty member Ellen Roche, Hermann von Helmholtz Career Development Associate Professor at MIT's Institute for Medical Engineering and Science. Her device—essentially a heart-hugging silicone sleeve that mimics the material properties and movement of the heart and assists with pumping without contacting blood—was created in collaboration with Harvard researchers and Boston Children's Hospital surgeons, and was demonstrated in 2017 to effectively restore heart function in pigs.
Spine
Could bioelectronics restore movement to those paralyzed by spinal cord injury? Polina Anikeeva PhD '09, Class of 1942 Associate Professor in Materials Science and Engineering and associate director of the Research Laboratory of Electronics, is designing tiny polymer fibers with embedded electrodes that could be implanted alongside damaged neurons and bypass the injury to transmit electrical signals—or act as scaffolds to support new nerve tissue as it grows. Her group's work could have implications not only for paraplegia but for conditions ranging from Parkinson's to depression.
Gut
Cancer, diabetes, autism, inflammatory bowel disease (IBD)—these and many other medical conditions have been linked to the delicate ecosystem of microbes in the gastrointestinal tract. The Center for Microbiome Informatics and Therapeutics, founded in 2015 by MIT biological engineering professor Eric Alm and Massachusetts General Hospital and the Broad Institute's Ramnik Xavier, is already making strides toward noninvasive diagnostics and personalized treatments for IBD. Long term, the center will focus its scientific and machine learning expertise—along with its growing "library" of global bacteria and network of clinical partners—on addressing a wide range of microbiome-associated diseases.
Tissue
After surgery, leakage from sutures can be life-threatening. At MIT's Institute for Medical Engineering and Science, principal research scientist Natalie Artzi and Elazer Edelman '78, SM '79, PhD '84, Thomas D. and Virginia W. Cabot Professor of Health Sciences and Technology, are designing an adhesive material that can be optimized to thrive in different tissue microenvironments. Having demonstrated that the sealant's effectiveness depends on the disease state of tissue, the researchers—both also affiliated with Harvard Medical School and Brigham and Women's Hospital—are at work on a formulation that titrates itself to the tissue, to provide a personalized solution for each patient.
Legs
When someone whose leg has been amputated is fitted for a prosthesis, even minor mismatches between limb and device can damage skin and soft tissues. Each socket's design must be highly personalized through what is currently an "artisanal process" requiring extensive time and money, says Kevin Moerman, the research scientist leading the computational biomechanics research track at the MIT Media Lab's Biomechatronics group. Moerman and colleagues are developing an automated, fully data-driven process for prosthetic socket design and production that can deliver a precise fit.
Cells
Most cancer cells have too many or too few chromosomes. When this imbalance—called aneuploidy—occurs during the division of healthy cells, the immune system calls in special cells to eliminate the aberration. Angelika Amon, Kathleen and Curtis Marble Professor in Cancer Research in MIT's Department of Biology and a member of the Koch Institute for Integrative Cancer Research, leads a team that has identified and is working to understand this built-in repair mechanism. Among the mysteries: why doesn't this process control the growth of cancer cells as with healthy cells? The answer could point to new therapies for virtually all types of cancer.