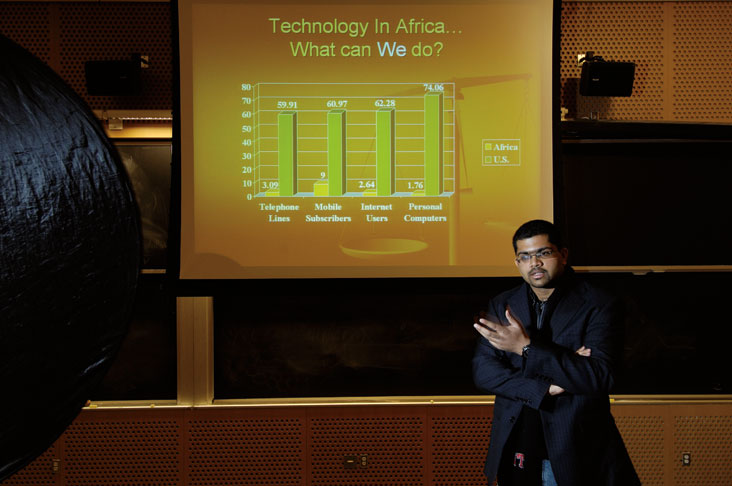 By Liz Karagianis
He was living in Zambia at age 12, when his parents suddenly lost their business. With no middle class, overnight they went from rich to poor. His family was forced to leave their comfortable home and moved to a poor area, where they often witnessed robberies and were surrounded with people who were starving and dying.
"The poverty struck me so much that it entirely changed me," he says. "All I wanted to know was what I could do to help. I realized young that I could make an impact."
To rise from poverty, Bobbili felt people most needed education. To help them, at age 14 he began writing a weekly column about science and technology for the largest newspaper in Zambia. He figured if he presented technology in a simple way, it would inspire people to learn. Later, to reach a greater audience, he launched his own TV show on ZNBC, The Popular Science Series.
Bobbili's parents soon began a new business and rose from poverty, but their son kept his commitment. At 16, he entered MIT. He began teaching for-credit courses on poverty in developing countries through MIT's Experimental Study Group. One of his classes produced legislation for HIV/AIDS in Zambia and recently has been approved by the Law Development Commission of Zambia for use by the entire nation — and if approved by Parliament — will affect 12 million people. Bobbili, along with his students, received special recognition from the Commission, and recently Bobbili was nominated for a prestigious award by the Government of Zambia.
The 18-year-old junior, who was born in India, and who in 2005 launched a company, Outsource-Africa, that generates software work from outside companies, mainly the U.S., says: "I definitely want to go large scale with these efforts. I'm not thinking small. I want to help in a big way and make an impact on large numbers of people.
"I'm glad if I can make a difference, but I really wish there wasn't a need for it," he adds. "The friends I made when we were poor were the closest friends I've ever had. When you strip away all the cars, money, and jewelry, all that remains is the two of you and the love between you. These friends — and people in the world like them — are the people I want to help."