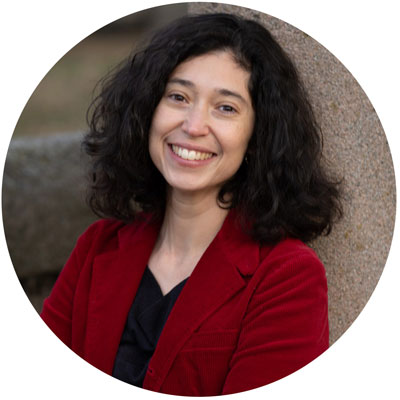 Jenny Larios Berlin
She went on to cofound two MIT spinoffs, Optimus Ride and limeSHIFT. "When I was doing my double masters in urban planning and business at MIT, I felt supported and challenged and knew I was growing as a person," says Larios Berlin. "So when the opportunity arose to do the same for others, it seemed very natural."
Larios Berlin's work at the Trust Center includes teaching courses for MIT graduate and undergraduate students such as 15.392 Scaling Entrepreneurial Ventures and 11.529 Mobility Ventures and mentoring MIT students and teams as they test the waters of entrepreneurship and develop new skills as innovators and leaders.
"The Martin Trust Center does a great job helping people discover what entrepreneurship means to them," says Larios Berlin, noting that the center offers a full complement of tools and resources, from classroom learning and makerspaces to one-on-one mentorship from EIRs. "We support your head, heart, and hands. The message to aspiring entrepreneurs is 'We see you, and we support your spirit, regardless of what path you take.'"
Teaching by doing
For Larios Berlin, mentorship begins with posing key questions and creating an atmosphere where mentors and mentees can explore the answers together. "One question we don't ask often enough," she says, "is 'How can we help people be authentic leaders?'" As the relationship continues, she asks, "How can I help them understand themselves better so they'll be stronger for whatever comes down their path?"
For some of her recent mentees, such as a group of early-career researchers who are recipients of the School of Engineering's Postdoctoral Fellowships for Engineering Excellence, entrepreneurship is a new lens through which to view their work. "Individuals in that program generally expect that they'll be academics, and that's a great path, but they may not realize that an entrepreneurial mindset can serve them in academic roles," says Larios Berlin, noting that "setting up a lab is kind of a small business enterprise."
At the other end of the spectrum, she explains, are students who come to the Martin Trust Center "really jazzed up about entrepreneurship." For them, the key questions include: "What is it you're trying to do? Why do you care about this?" and "Have you taken time to look inward to fully understand your motives and goals?"
Among the skills Larios Berlin seeks to impart to all students and mentees is the ability "to see from the other person's seat," using empathy and curiosity. It's a skill she tries to model in her own teaching. A team leader needs to present content, she contends, in a way that allows the team to receive it in a way that's useful and productive.
The most satisfying outcome of mentorship is seeing individuals and teams grow and change, often in the context of trial and error. "It's not my place to tell them why something didn't or won't work," she says, "but to support their discovery process and help them ask, 'How do I build my resilience?'" Accepting imperfection is a critical skill, according to Larios Berlin. "You've got to give yourself grace, because you're not always going to get it right."
Larios Berlin encourages anyone seeking a mentor to remember that mentorship can develop in different settings ranging from structured classes to chatting over coffee. As the world emerges from periods of isolation during the pandemic, she points out, mentorship is an especially important tool MIT can leverage to ensure that students are ready to connect and interact with confidence when they leave campus.
Mentorship for the head, heart, and hands
Just like an MIT education, mentorship is about discovering one's own potential and using it to change the world. "I'm a first-generation Latina," says Larios Berlin, "and I never thought that I would go into entrepreneurship. MIT gave me the confidence to know that I would land on my feet no matter what." Yet even with many professional accomplishments realized, she sees her entrepreneurial journey as far from over. "I am still asking, 'What am I passionate about now? What do I want to learn?'"