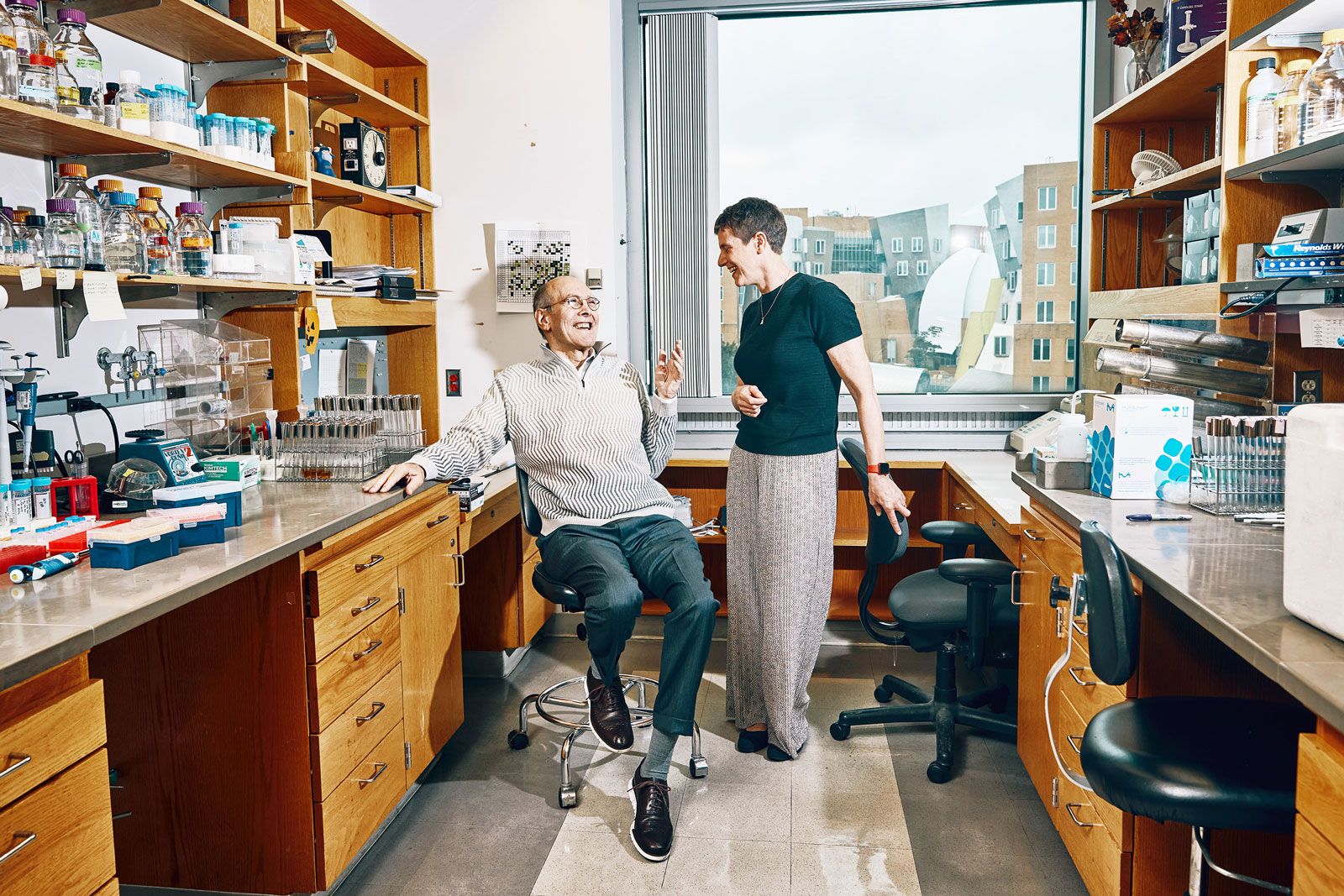 By Kris Willcox
Though he was interested in astronomical objects, he was even more fascinated by the tools of his trade. "I found that I enjoyed building the equipment to measure stars more than finding out what was happening in the stars," he recalls. Stein spent the next several decades creating innovative tools to solve complex problems. In 1985, he cofounded Hologic, a health technology company that has had a profound impact on medicine. Among Hologic's many achievements are groundbreaking diagnostic and screening technologies that have reshaped the field of mammography.
Last fall, at Stein's retirement party, friends and colleagues surprised him with a very special gift: the Jay A. Stein Professorship of Biology at MIT, established by Hologic. "It was the perfect gift," says Stein. "The greatest compliment of all was that my colleagues understood me so well." Through the professorship, Stein says he has been given "a permanent link to the future" and to MIT innovators.
The inaugural Jay A. Stein Professor of Biology is Amy Keating, head of the Department of Biology and a noted leader in the field of biological engineering. Keating, who is also a member of the Koch Institute for Integrative Cancer Research, uses computational techniques to study protein structure, function, and interactions and to design molecules that can be used to probe and disrupt processes relevant to human disease.
Monica Aguirre, vice president and chief of staff at Hologic, considers Stein both a colleague and a dear friend. She says it was an honor to plan his retirement celebration and the Stein Professorship, adding that "Jay has made a lasting impression on almost everyone he's worked with." She describes him as possessing the inquisitive spirit of an inventor (he has more than 100 patents to his name), the grit of a hands-on collaborator, and the generosity of a mentor. "He's a true leader, inside and out."
When considering Stein's retirement gift, says Aguirre, "we knew it needed to be something lasting, that would impact many lives, and we knew it had to be MIT, because he loves MIT deeply." By supporting faculty, the gift supports individuals whose careers, like Stein's, will have "a ripple effect in the world," according to Aguirre, who points out that the Stein Professorship also reflects Hologic's values: "Our mission is to encourage innovation, with the goal of doing good for people. That is what Jay did, and it's the foundation of who we are at Hologic."
Follow the nerd, not the herd
Stein says it was MIT's culture of "open-minded acceptance" that enabled him to pivot from physics to biomedical technology. He credits MIT faculty mentors with inspiring him to follow his curiosity. He also prized the mentorship of MIT technicians and machinists who taught him the value of finding the right tool for every job, and of taking the time to do the job right.
Stein's personal motto is one that any MIT alum can appreciate: "The secret of innovation is simply this: Follow the nerd, not the herd."
Today, Stein remains a trusted partner to Hologic's leaders, offering suggestions and ideas at quarterly meetings (written recaps of these reflections are titled, affectionately, "The Word from the Nerd") and has recently rejoined Hologic as a consultant on a project to develop new techniques for painless mammography. As he continues to follow his path of innovation, the Stein Professorship offers him a permanent link to the Institute, and to leading faculty like Amy Keating. According to Stein, the professorship "is a way to pass the baton of science, from one generation to the next—hopefully, forever."