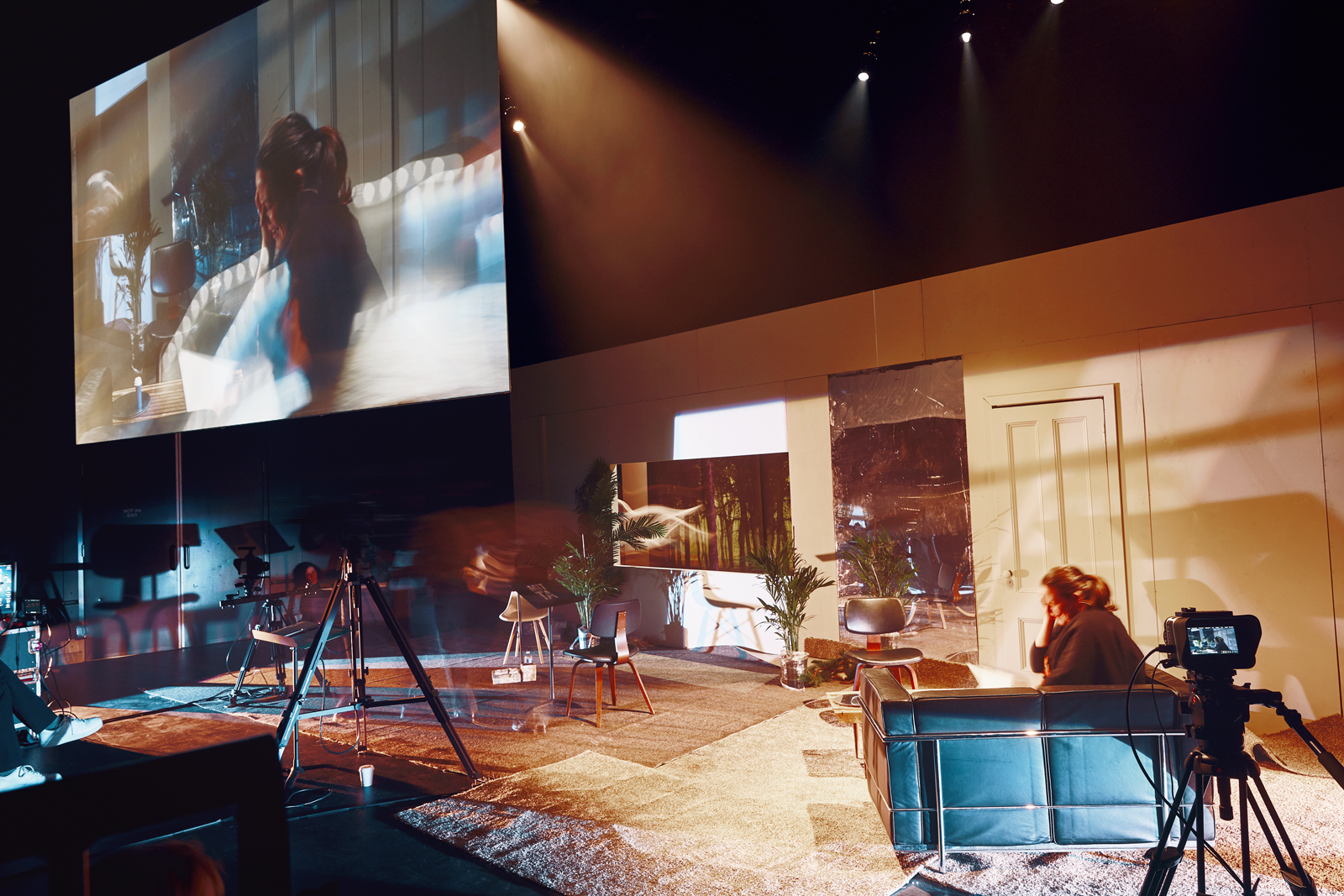 By Mark Sullivan
But Zoom and other defining technologies of the pandemic era have changed the "landscape of being a writer for theater," he says.
"Theater has had to reconcile itself to what technology makes possible, such as streaming plays, writing works for virtual spaces, and using AI to generate dialogue," Urban says. "Theater also provides what other media cannot: the experience of communal viewing in a shared space."
Some 900 students a year take classes in theater at MIT, with performance and studio course offerings ranging from the traditional to the very avant-garde, according to Jay Scheib, the Class of 1949 Professor of Music and Theater Arts.
Innovations in neurotechnology influenced The Conquered, written by Urban and directed by Scheib, which was performed as a work in progress on campus at the end of 2022 with support from the MIT Center for Art, Science & Technology.
"The science that inspired the piece, a neural device that aids people with epilepsy, has been described by some implant recipients as giving a feeling of 'someone inside their head,'" Urban says. "I transformed this into a narrative device to explore ethical issues: What does it mean to forget? How does it relate to questions of forgiveness and justice?"
"We presented it as a live film, using three cameras and doing a live mix, with microphones amplifying the performers' voices," Scheib says. "We weren't actually using neurotechnology. That would be my preference, though I don't know what that would look like. Most actors are like, 'Brain implants? Not so sure,'" he adds, jokingly.
Looking ahead, Scheib is integrating augmented reality into his new staging of Richard Wagner's opera Parsifal, which he will premiere at the Bayreuth Festival in Germany in July 2023.
Meanwhile, Urban and dance lecturer Dan Safer are collaborating with students on a dance theater piece, Slow Violence. "It will take place in a series of hotel rooms," says Urban, whose band, Occurrence, will perform live. "The interplay of live and prerecorded music and projections, alongside more traditional sets, costumes, and lights, is a hallmark of theater at MIT."