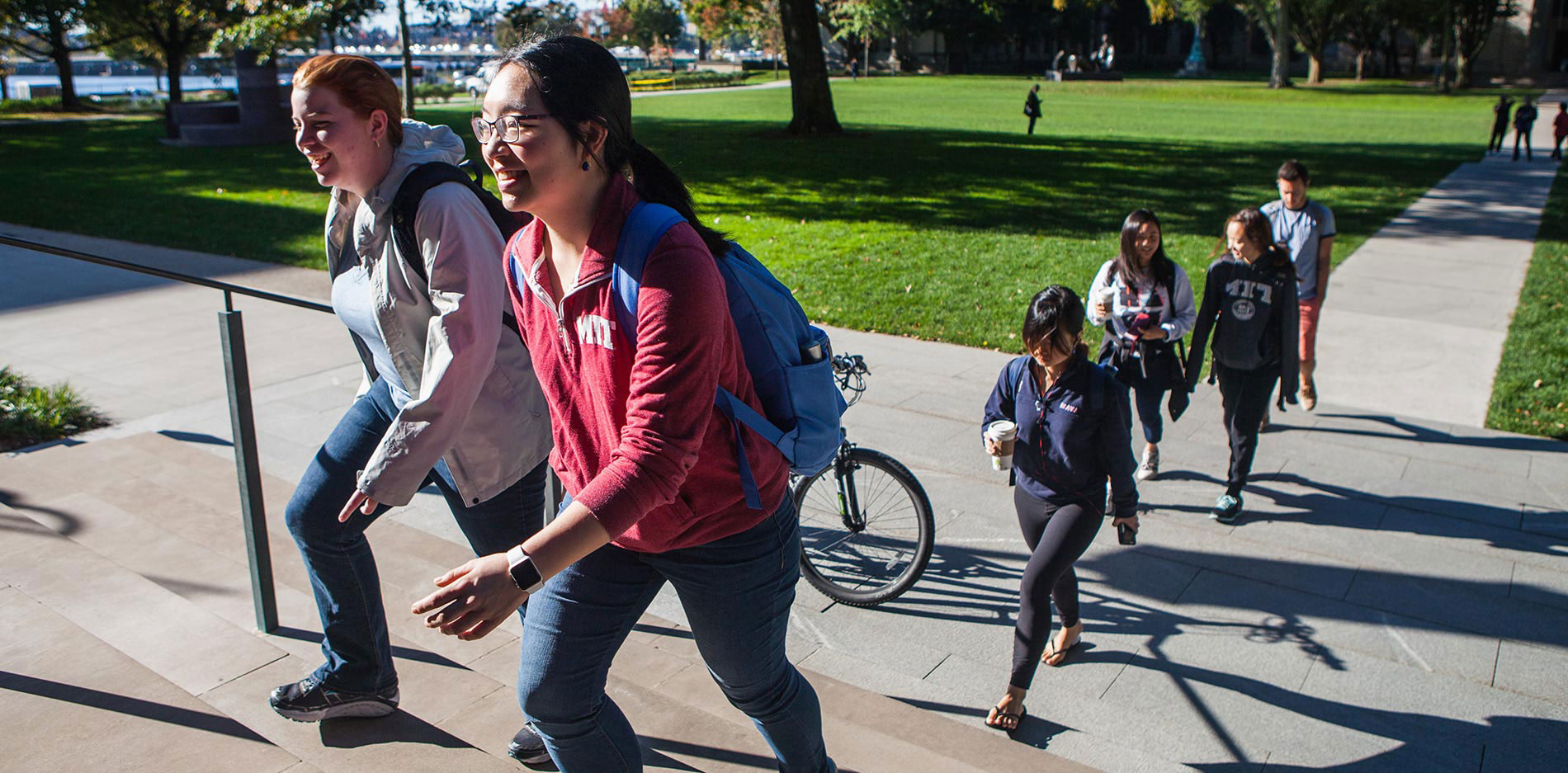 But it's just as important, says Gabrielle Stoy, a mathematics instructor and advisor in MIT's Experimental Study Group (ESG) learning community, that they learn time management.
"It's fulfilling to help first-year students navigate all the things MIT has to offer, and it's lovely to see their enthusiasm," says Stoy. "But they've got to cope with learning to manage their time and making choices about how they spend it."
ESG, an undergraduate learning community founded in the late 1960s to facilitate more creative, student-led learning, provides small group instruction and academic support in the core first-year subjects. ESG students are assigned to an advising group that includes peers, a lead advisor, and student mentors known as "associate advisors," providing them with a built-in support network. Stoy says the contributions of associate advisors are particularly valuable, since first-year students more easily relate to students close to their own age and experience.
"Time is not infinite"
"Associate advisors give more of a student perspective," says Angeles Cibils Bernardes '25, a student from Paraguay studying computation and cognition. "We can tell them, 'Don't take this combination of classes unless you never want to see the sun again,' or, 'This combination of classes is usually a bit more manageable.' We can also help by suggesting, 'This is what the social life is like; these are different clubs you can join,' and help them balance that as well."
Associate advisor Katie Miner '24, an applied math major from Buffalo, New York, agrees with Stoy that learning time management is essential. "MIT students are successful and want to do everything," says Miner, who is also minoring in computer science and political science. "Time is not infinite, and you see a lot of first-years overcommit themselves—taking five classes and trying to do several extracurriculars, for example. School is so different at the college level; you have to learn to prioritize things in your life and be able to say no."
A sounding board for first-year students
Mentorship happens in informal settings, too; working as one of several associate advisors in a weekly seminar at the Martin Trust Center for MIT Entrepreneurship last year, Cibils Bernardes recalls using the walk back to main campus to connect with her advisees. "I tried to share if I was struggling with something like a midterm coming up, hoping that would make them feel more comfortable sharing how they were feeling."
She well remembers the stress of her own first year: "You get to campus and don't even know what questions to ask. Everything is so different." Her own associate advisor, she recalls, "gave key insights that made my first-year experience much more manageable than it would have been otherwise."
Award-winning mentorship
Each year, MIT's Office of the First Year recognizes the outstanding contributions of first-year students, associate advisors, and first-year advisors. In 2023, Stoy received the Excellence in Mentoring award, while Miner and Cibils Bernardes received Outstanding Associate Advisor awards.
Stoy, who joined ESG in 2006, is an experienced guide and sounding board for her advisees. At the award presentation, she was described as tirelessly helping students overcome academic obstacles. "They're all experiencing some challenges," she observes. "I taught for many years at Oxford and it's the same there. People who are very skilled at high school work are suddenly confronted with others who are also extremely good. We explain that they're not alone and encourage them not to navigate this on their own. They will succeed—it just won't be quite as easy as high school!"
All three feel strongly that assigning each first-year student to multiple advisors, and to a peer advisory group, is enormously valuable. "At MIT, there are always people willing to support first-years," says Miner. "Having a whole office dedicated to helping people adjust to campus is very rare and super helpful, I think."
In addition to her associate advisor responsibilities, Miner is president of her living community in New House and chairs a student council for math majors, which also offers peer mentorship. "We do an information session where juniors and seniors in the math department come in and talk about their experiences with their faculty advisors, because the first-years will need to decide who in the department they'd like to work with."
Paying it forward
Experienced students offering a hand to new arrivals is part of the culture at MIT that Miner values. "Definitely one of my priorities in life generally is to help people," she says. "Associate advising is a great way to give back because of the mentorship that I've received from others."
Cibils Bernardes, Miner, and Stoy are honored by the awards that recognized their efforts, and pleased to have positively impacted the first-year experience. "The important thing, in a nutshell," says Stoy, "is that I hope we teach them how to learn!"