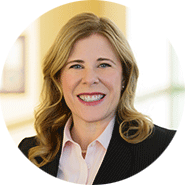 Julie A. Lucas
Julie A. Lucas, the Institute's vice president for resource development, talks about how philanthropy and faculty commitment have built a strong foundation for design excellence that stretches well beyond campus.
How are MIT faculty from all departments involved with design at MIT?
Our brilliant faculty members are always finding creative ways to implement design principles in classrooms, labs, international learning opportunities, and makerspaces. In recent years, the Institute has made a concerted effort to elevate and strengthen interdisciplinary education, research, and innovation in design. In 2020, professors John Ochsendorf and Maria Yang '91 co-chaired a committee of 18 educators from across the Institute to envision ways to more fully offer design leadership in service to MIT and the world. When the committee released a whitepaper in 2021 with its recommendations, a design center like the Academy was aspirational. Now their insightful work, aided by visionary philanthropy, has made it a reality.
How has philanthropy accelerated design initiatives at MIT?
One way is through the founding of the Morningside Academy for Design. The Academy was established through a $100 million gift from The Morningside Foundation, the philanthropic arm of the T. H. Chan family. Thanks to this gift, several Morningside Academy fellowships were awarded to graduate students this past summer, and construction on the Metropolitan Warehouse was able to begin. The gift will also provide funding for faculty chairs. We are incredibly grateful to the Chan family for their generosity and for recognizing the importance of design at MIT, both for our students and the world. All gifts, no matter their size, are instrumental to supporting design at MIT.
Why is MIT the best place for the Morningside Academy?
We have the best landscape of technological research in the world, as well as a wonderful landscape of design. Ours is a culture of innovation, making, and collaborating, and the Morningside Academy puts those pieces together in an impactful way. The principles of the Academy, particularly its commitment to creativity, interdisciplinary approaches, and equitable design, are the embodiment of MIT values and resources. Most importantly, we have seen and continue to see how MIT students, faculty, and researchers are driven in their pursuit to design a better world. We must support them in those efforts, both through philanthropy and initiatives like the Morningside Academy.