By Kathryn M. O'Neill
They are among the seemingly endless areas of research explored by participants in MIT's Undergraduate Research Opportunities Program (UROP).
One of the first programs of its kind in the United States, UROP was founded in 1969 by Margaret MacVicar '65, ScD '67 to give undergraduates firsthand experience grappling with problems that have never been solved—the essence of research. Today, the program supports nearly 6,000 projects yearly with 93% of MIT graduating seniors participating in at least one UROP during their undergraduate years.
"From the first day they arrive on campus, MIT undergraduates are ready to make a meaningful difference. UROP channels that energy and combines it with the expertise and insight of MIT's research community," says Ian A. Waitz, vice chancellor for undergraduate and graduate education.
"Undergraduates bring a terrific ingenuity, perspective, and passion to MIT. It is easy to understand why so many of our faculty believe these students are so integral to their research," says Michael Bergren, associate dean and director of UROP. Noting that UROP received robust support throughout the Campaign for a Better World, Bergren adds that the UROP Office gets more than 60% of its funds for student support from philanthropic sources.
UROPs are available in every MIT department, and the projects students work on vary widely, from measuring the competitiveness of markets in the pharmaceutical industry to harnessing wave energy in order to rebuild beaches. But whatever the specifics of the research, in every case undergraduates collaborate with MIT's world-renowned faculty and learn to tackle real-world problems. For many, the experience is life changing.
"UROP has been the highlight of my time at MIT," says Zoë Marschner '23, a double major in math and computer science who did her UROP project on geometry processing. "I got to deepen my knowledge of math and computer graphics and coding, while also learning how to write a paper and create figures. I really value the variety of skills I learned."
New perspective
UROP is all about "learning how you want to learn," says Moises Trejo '22. "The most important thing about MIT is the people, and classes give only a narrow view. A UROP gives you much more opportunity to do your own research and to talk to faculty and others about cool research."
An electrical engineering and computer science (EECS) major, Trejo spent this past fall working with Evan Ziporyn, the Kenan Sahin Distinguished Professor of Music, on digital sonification, a project focused on turning data sets into sound. Trejo describes the project as "a toolkit for anyone who wants to make music" and notes that this UROP experience has given him a new passion: "I'm really big into music now."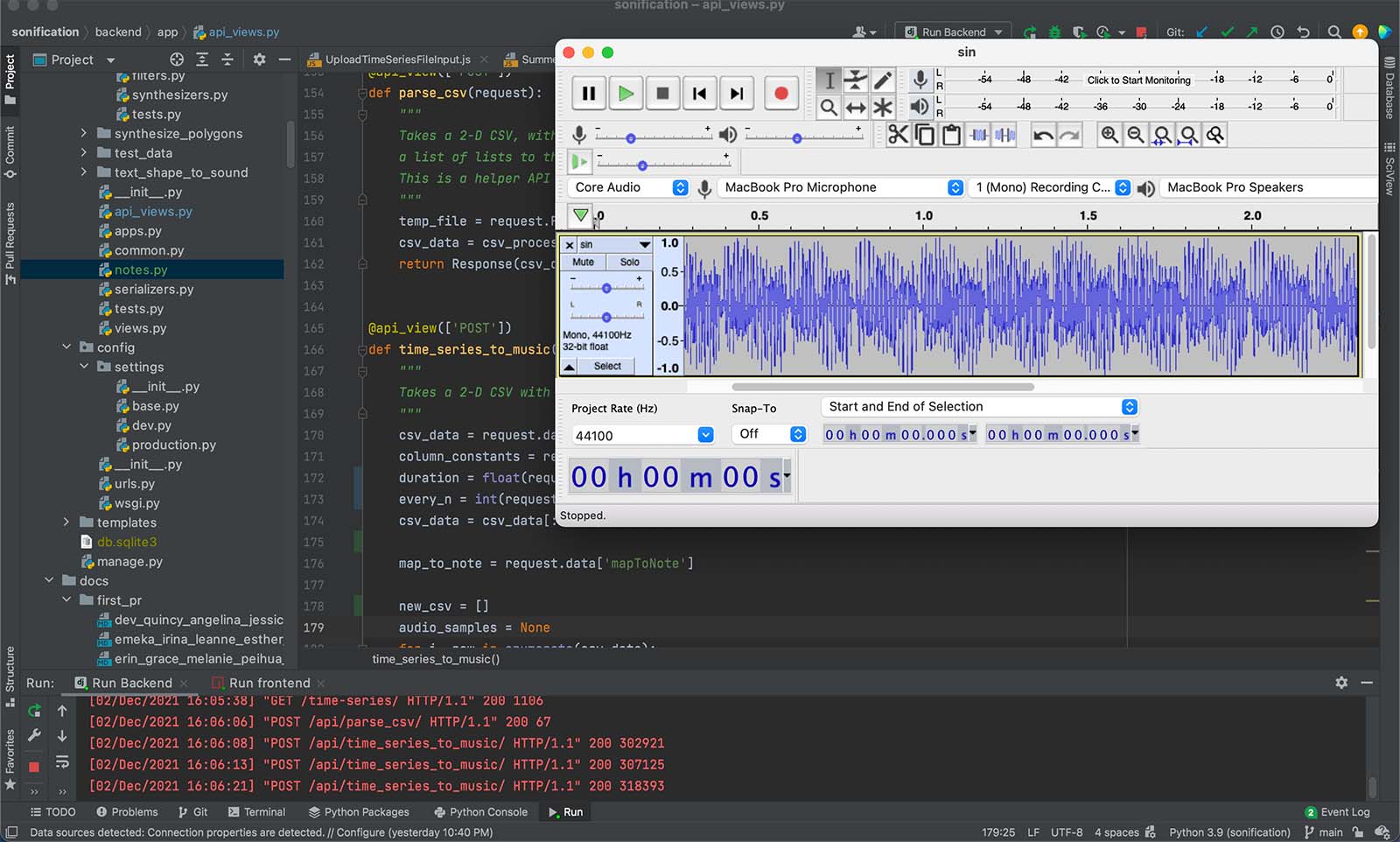 Ziporyn, a noted composer, conductor, and clarinetist, says sonification has rich potential as a composition tool but many musicians lack the technical skills to deploy it. So, with a fellowship in the Digital Humanities (DH) Lab in MIT's School of Humanities, Arts, and Social Sciences (SHASS)—host to a broad range of UROP projects— Ziporyn worked with DH Associate Director Ryaan Ahmed to organize roughly two dozen UROP students to explore different aspects of sonification, developing an open-source tool that anyone will be able to use.
Some UROP students are working on the sonification of colors, turning hexadecimal color codes into sound. Others are making sound from polygons, turning plotted points into music. Trejo focused on converting timed series into sound. For example, he collected the times of sunrise and sunset over the course of a year to create a composition of those diurnal cycles. "I don't think I'm that skilled at making music, but I made this," Trejo says.
"Moises has taken a lot of personal initiative, consistently coming up with fascinating and surprising sonifications," Ziporyn says. Trejo says that sharing his new music-making experience with others has given him a rich new way to connect with friends and colleagues. "Just talking to people about what I've done, I've learned so much about other people," he says.
In addition, Trejo says UROP is an ideal way to connect with faculty members because these projects are often the ones faculty care most about. "MIT has world-class faculty in every area, and they're willing to take you on and teach you everything," he says. In particular, Trejo recommends SHASS research. "There are world-class choreographers, historians, musicians, everything in the humanities—and people sometimes don't take the time to explore that area."
Career training
Marschner touts her UROP experience because it has given her the chance to try out her chosen career path. "Doing research all day is definitely something I love," says Marschner, who hopes to become a professor of geometry processing.
She has been working with Justin Solomon, an associate professor in EECS, on a on a novel application of a mathematical technique called sum-of-squares optimization. The work holds promise for improving computer simulations of physical objects, such as those used in computer-aided design, architecture, gaming, and animated movies.
"My work is some of the first to apply this technique in my field, and I've shown how it can be used to formulate algorithms on representations of 3-D shapes more mathematically complex than representations traditionally used," Marschner says. "Eventually, this work may make it possible for these representations to be used to improve a large array of applications, like clothing in Pixar films or simulations of structural properties of mechanical parts!"
UROP, Marschner says, has given her the freedom to follow her own research path. "I got to create my own problems to solve to help me learn the material," she says. "I really enjoyed the self-directed aspect."
Already, Marschner's research has led to two published papers in geometry processing, a subfield of computer graphics. Further, she has gotten the chance to present her work (virtually, due to Covid-19) to the research community, including at the Toronto Geometry Colloquium and at the SIGGRAPH Asia 2021 Conference, a major computer graphics conference.
"Getting to present at real conferences has been great," says Marschner, who got a job conducting research at the University of Toronto last summer thanks to a contact she made at the Toronto event. "I've gotten so much experience on paper writing and presentations, which is really hard to learn in a classroom."