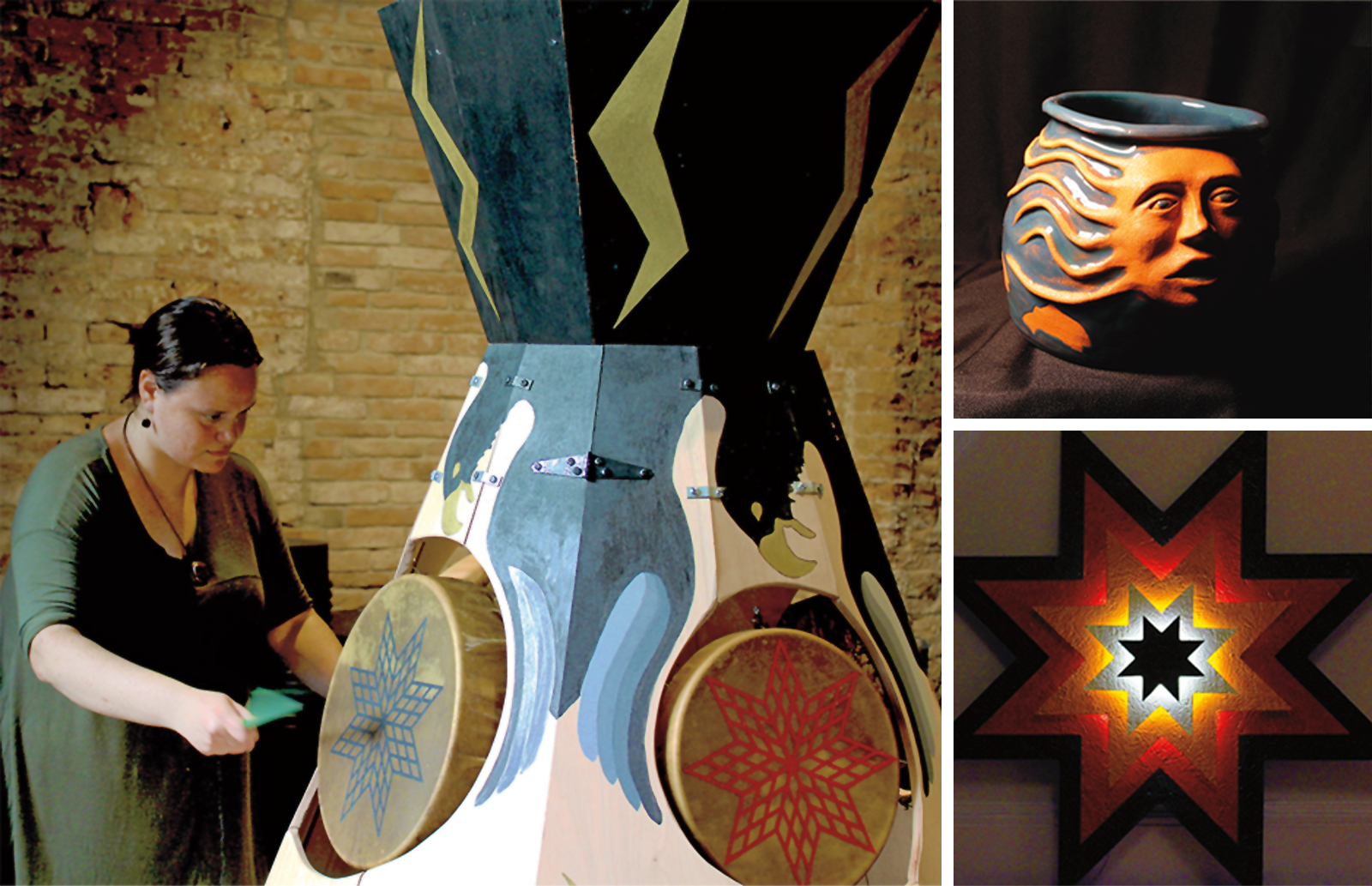 ---
A native Dakota from Olympia, Washington, Genia uses her mastery of technique and materials to explore Dakota philosophies and how they might address contemporary challenges such as climate change and indigenous cultural preservation.
Genia entered MIT in 2017 as an award-winning conceptual artist whose work has been exhibited nationally and internationally; she received her first public art commission in 2017 for Anpa O Wicahnpi, Morning Star, a Dakota pride banner displayed at the Seattle Center. She has also held positions as a community organizer, educator, and cultural worker.
Her most recent major work is the sound sculpture Acoustic Tipi, which she exhibited at the 2018 Venice Architecture Biennale. Created in the shape of the traditional Dakota dwelling but stylized to promote sound-transmitting capabilities, the piece features four drums and evokes two supernatural beings from Dakota legend who bring environmental catastrophe.
Genia created Acoustic Tipi as a public interface to explore climate change, bringing people together to play the drums and create resonance that reverberates into the Earth. "The sound of the drum is communication, and I wanted to create a structure that would house that energy," says Genia. "It's a prayer with the cosmos."
The various elements of Acoustic Tipi—the deerskin drums, painted deities, and precisely crafted wood panels— demonstrate Genia's deep fluency in materials and devotion to continually adding to her mastery of media which include photography, drawing, painting, sculpture, jewelry, and casting.
At MIT, Genia is adding new technologies such as CNC (computer numerical control) cutting and 3-D imaging to her toolbox to further expand her creative reach and "adequately respond to ideas in whatever medium I think would be best. Digital fabrication has helped me get to the heart of what I want to focus on."
No matter what the medium, the morning star symbol is a constant across Genia's body of work. She describes the morning star as a living symbol that embodies the "Dakota philosophy and cosmology and lays out how to exist in the world." If she's unsure about how to approach a new medium, she "can always fall back on this image and explore it using the different techniques that I've been learning."
In her wearable piece InVisible, the morning star manifests in shimmering, pieced gossamer fabric. In Eclipse, which Genia created in Neil Gershenfeld's How to Make (Almost) Anything class at the MIT Media Lab, the symbol is boldly expressed through the precise angles of a CNC cutting machine.
Genia grew up immersed in a culture of creation as part of a family of artists and craftspeople. After starting her studies in ethnobotany, Genia transferred to the Institute of American Indian Arts in Santa Fe and ultimately got her degree in fine arts and Native American studies at Evergreen State College in Olympia. She also earned a master's of public administration in tribal governance from Evergreen. It's been a circuitous educational path for Genia, who describes herself as a nontraditional student. "I've gone to a number of different schools and have three kids. I've always had to navigate having a family, a job, going to school, and being an artist."
After spending time on the periphery of the art world—working in art supply stores, framing, and doing community-based art outreach—"it was time to take everything I had learned and apply it to my practice," she says. "And that's how I decided to get my terminal degree in art here at MIT."
Genia receives full fellowship support to study at ACT, which is part of the MIT School of Architecture and Planning. She says the support makes it possible to focus solely on her work and education. "Access to the incredible people, resources, and spaces at MIT has given me the confidence to explore, push, and even make mistakes, in service of ultimately producing excellent work."
Looking forward, Genia wants to contribute to the reemergence of indigenous traditions for future generations. "Much of our cultural knowledge and artistic practices have been decimated. But there's a great movement that's happening now to bring those techniques back."
---
From Many Sources, Full Support
Erin Genia is able to focus fully on her art education without financial and time limitations thanks to full fellowship support from the Program in Art, Culture and Technology (ACT) under the larger umbrella of the School of Architecture and Planning (SA+P). With such funding, artists can focus completely on their vision and amplify their voices in response to critical challenges around the world.
"In my experience, fully funded fellowships allow graduate students to put 100 percent of their effort toward their studies," says ACT director Judith Barry, "whereas teaching and research assistantships often require a substantial time commitment—sometimes as much as 20 hours per week."
ACT promotes opportunities for its students to find meaning in some of the most important issues of our time—such as the environment, cultural empathy, migration, and human rights—and to reveal opportunities to create a better world. The result is a program that combines the Institute's focus on real-world problems with the power of artistic expression.
In addition to her fellowship, Genia has received support from a number of other sources, such as travel funding from ACT and the Office of the Dean, and additional project funding from ACT and the Council for the Arts at MIT. In 2018, Genia organized a panel of indigenous artists as part of the MIT Zooetics+ symposium. That work was funded by Cambridge artist and philanthropist Juliet Kepes Stone, daughter of late MIT professor and renowned artist György Kepes, and SA+P, along with MIT's Office of Graduate Education, and Committee on Race and Diversity. Genia is also supported by other institutions, including by the First Peoples Fund, and by the Higher Education Program of her tribe, the Sisseton Wahpeton Oyate.
One of SA+P's highest priorities is encouraging philanthropy for graduate fellowships. Promising young artists may not be able to rely on high-paying jobs right out of school and cannot ignore financial considerations when choosing where to study. With full support, top candidates can join the SA+P community and pursue their careers free from worry about costs.
In the absence of ACT fellowships, Genia was able to benefit from general Institute funds. Donors who make unrestricted gifts to MIT give the Institute the flexibility to apply the funds where they will have the greatest impact; often this means supporting students. "We must enable those students who are accepted by MIT to come to MIT," says Hashim Sarkis, dean of SA+P. "This is our most critical priority at SA+P, to raise the necessary funds to offer all students the benefit of full tuition support, whether through endowed fellowships, expendable gifts of tuition support, or unrestricted gifts to SA+P and MIT."