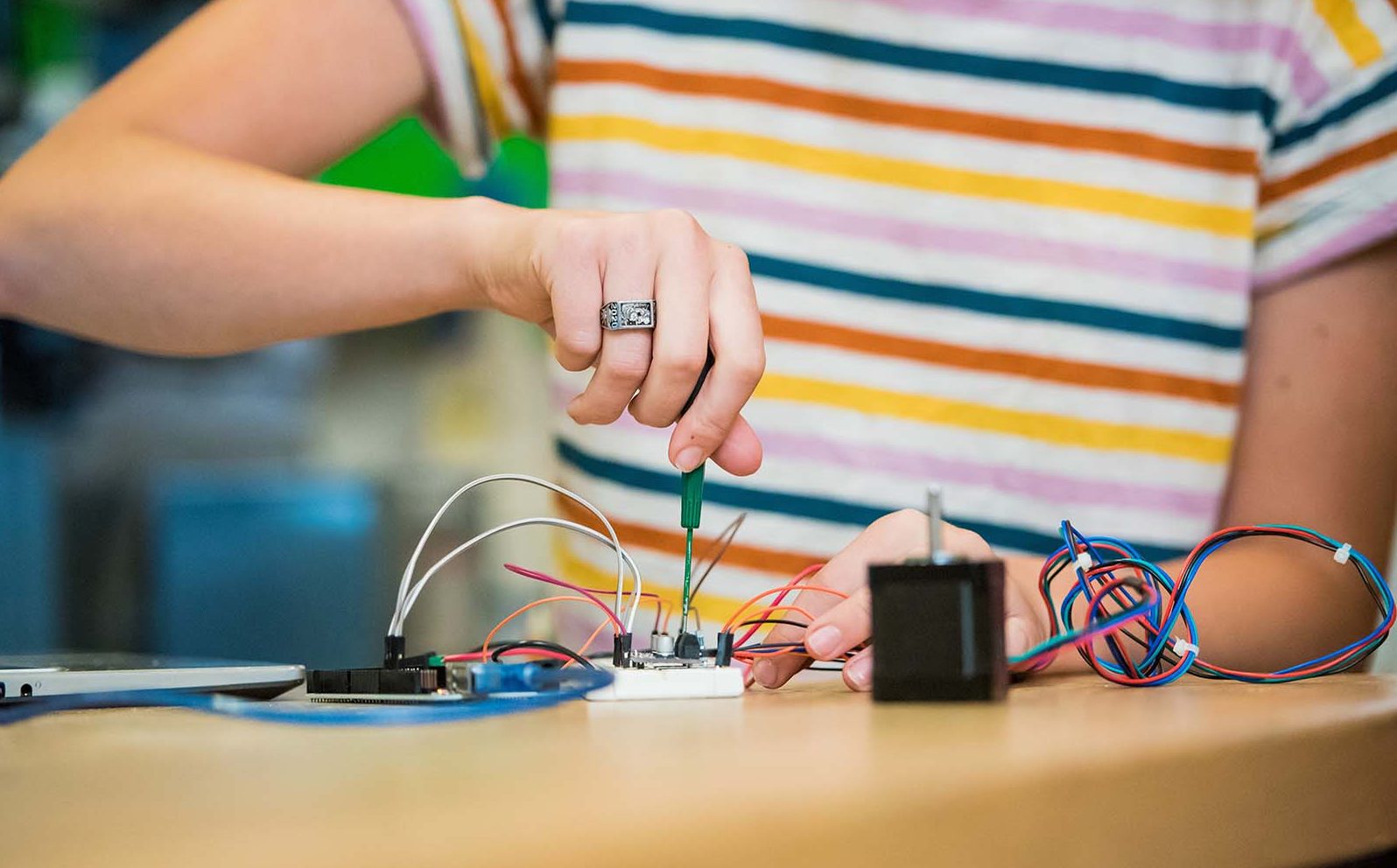 By Mark Sullivan
The Mobius web portal, which began in 2016 as an app mapping campus makerspaces and machines, is now piloting the added capability of displaying users' experience and proficiency on various pieces of machinery. A student trained on a laser cutter in one makerspace, for example, can call up a "Mobius Credential" and bypass hours of retraining to use a similar machine in a different makerspace, a real time-saver.
"Mobius basically gives you x-ray vision for the entire campus: you can see any machine, anywhere," says Martin Culpepper SM '97, PhD '00, a professor of mechanical engineering and the director of Project Manus, the Institute-wide effort to upgrade campus makerspaces and foster student maker communities. "The site is the student's passport, their gateway to get in and move between the different makerspaces."
The credentials program is one of the many ways Project Manus— supported by making enthusiasts from inside and outside the MIT community—is fostering the art and practice of making across campus. "One-hundred-forty years ago, the original document incorporating MIT called for applying science and technology to solving real-world problems," Culpepper says. "That doesn't happen if you just read from a book. Making things is what MIT is all about."
Some 40 makerspaces and student-accessible shops are in operation across the Institute. In addition, plans are underway to create the largest makerspace on campus, slated for a 2025 opening on the ground floor of the renovated Metropolitan Storage Warehouse. The Project Manus-run space will be available to all students, alumni, faculty, and staff. The new process on Mobius enables students or alumni visiting a makerspace to instantly call up their proof of training and safety checkoffs on a given machine.
"Using the website, students sign in through the iPad, and their names and credentials show up on a big monitor right in the shop," says Silvia Knappe '21, a graduate student in electrical engineering and computer science who teaches students to use bandsaws, drill presses, and sanders in the Metropolis makerspace. "I find that really useful as a mentor, especially during open hours: if someone comes in, I can see if they need help potentially with the tool they want to use, or if I can just leave them be because they are very experienced at what they are doing."
Noting that Mobius already has more than 2,000 users, Culpepper says the goal is to make using makerspaces as regular a part of the student routine as heading to the library and the gym. "Every student at MIT should be a maker. They should never feel they can't make something whenever they want to make it," he says.
Robyn Goodner, maker technical specialist for Project Manus, says working on even "super low-fidelity" projects in the shop can spark ideas for solving problems, such as the time a graduate student mentor got an idea for his bioengineering fluidics project while making foil decorations for a holiday party. "A lot of knowledge comes from actually making things and fabricating," Goodner says.
Students agree.
"I like helping other people with their projects because it gives me ideas for my own," said Cat Arase '22, a senior in mechanical engineering who is active in the blacksmithing lab and leads training sessions in the Metropolis makerspace for those interested in water jet cutting. "There's a lot of creative inspiration just being there," Knappe says of the Metropolis makerspace. "I love to de-stress by making things."
MIT's makerspaces have been employed on projects as diverse as constructing a novel rocket motor system, fabricating race car parts, exploring ways to count white blood cells, and working with novel chemical compounds and biological systems, Culpepper says. "These kids just apply their MIT ingenuity to problems, and it works amazingly."